LG Washing Machine Launches a New Beast: LG WashTower- a Game Changer in Laundry Care
LG Washing machine has introduced a unique solution to ease our daily laundry trouble. It has perfectly combined the hardware and software to produce a beast in Indian market. LG WashTower, the innovative machine combines a dryer and washer, saving space and making laundry day a breeze. In this article we will take a closure look at LG WashTower's feature, benefits and drawback to help you decide if it's a perfect fit for your home.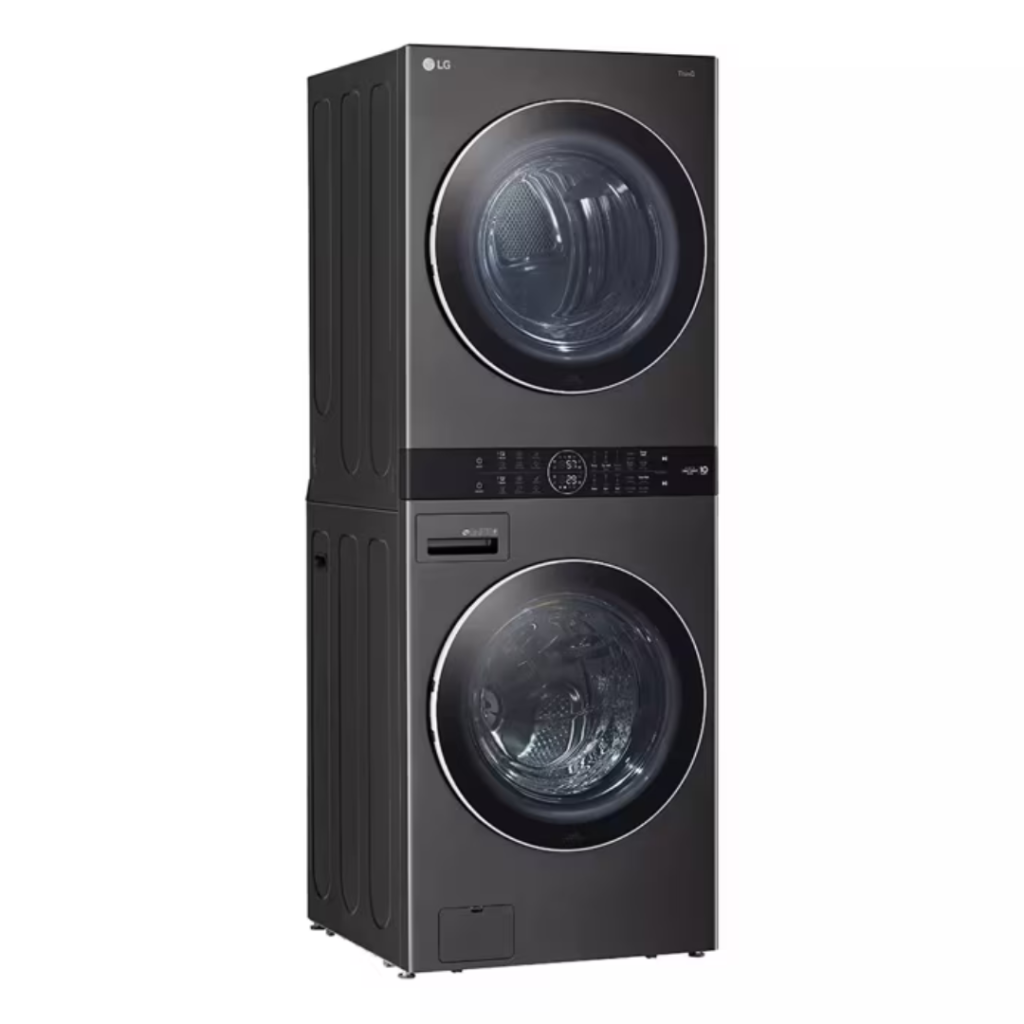 | | |
| --- | --- |
| Pros | Cons |
| Space saving, Sleek and double deck design | Delicate cycle is not smooth in functioning |
| Smart Paring takes care of both washing and drying automatically | High price tag |
| Advanced features ensure effective cleaning | Some cycle may take long time, even 2 hours |
| LG allergy care reduces house dust mites | |
| Speed wash features takes just 16 mins to complete | |
You may also like: A Game Changer: iPhone 17 production may move to India says analyst
About LG WashTower
LG has officially launched the LG WashTower in India. It is LG's premium offering in its home appliance portfolio. It features a compact double deck vertical design, with front load doors and steam dryer. It comes with advance intelligence feature which lets you wash and dry your laundry in just 1 hour.
Specification
Dimensions: 600 mm x 1655 mm x 660 mm
Finishes: black steel ($100 extra), White
Product Color: Nature Beige, Nature Green
Capacity: Washer 4.5 cu. ft., dryer 7.4 cu. ft.
Cycles: Normal, Bedding, Heavy Duty, Delicates, Speed Wash and Downloaded
Cycle options: Extra rinse, steam and sanitize, auto-recommends cycle based on last ran wash cycle
LG WashTower Features
The LG WashTower is equipped with advanced features to handle your daily laundry task. The AI DD (Auto Sense AI DD) technology helps the LG washing machine to automatically identify the most suitable washing pattern for your cloths, giving them utmost care. The 'Prepare To Dry' option completes the laundry in just one hour. The quick wash and quick dry options combined automatically transfer the cloths from washer to dryer adding an extra layer of comfort to your laundry routine.
For the busy families LG has introduced TurboWash 360 feature. It thoroughly cleans the laundry in just 39 mins. The speed wash finish feature completes the laundry in just 16 mins, which is almost twice as fast as the average washing machine time.
The LG allergy care feature reduces house dust mites by 99.9%, providing freshly dried clothes for allergy sufferers. The dedicated central control panel ensures easy access and control for users. It is located at perfect height making it easy to reach for anyone. The smart feature option ensures smooth sync between dryers' cycle and washers' settings, making the LG washing machine fully automatic.
LG has specially designed the space saving model for Indian households. Its double stacked design saves valuable floor space, making it ideal for small home and apartments. The ergonomic design enhances the appeal of laundry area and becomes a perfect fit for living room.
LG WashTower Downside
The LG WashTower is a premium product and so does have a high price tag in Indian market. Some of its cycle such as Sanitize cycle can takes upto 2 hours and 20 mins, which is quite long. Some users found the LG WashTower's delicate cycle off the mark. Its performance is not top class, as the cloths retained more water than average.
LG washing machine price
LG Washtower is available in India at Rs.2,75,000. The washing machine is available in LG India site and on Amazon. LG is offering 5% off on first purchase, free shipping, and an exchange offer up to ₹21,000 on its official online store.
Warranty
LG is offering its standard warranty on LG WashTower. The company is offering 1 year warranty for general parts and labor, the stainless steel drum is covered for 3 years. The main part direct drive motor is covered for 10 years, which is a good sign as it's the part to break down first.
FAQs
Q. Is LG Washtower available in India?
Ans. Yes, it is available in India in both online and offline market.
Q. What is the price of LQ WashTower in India?
Ans. It is priced at Rs. 2,75,000 in India.
Q. Is there any offer on LG WashTower?
Ans. LG is offering 5% off on first purchase, free delivery and exchange offer upto Rs.21,000 on its official online store.
Q. Is the LG WashTower worth the price?
Ans. Considering the price tag LG WashTower is a premium product. However, the revolutionary laundry solution offers space saving, convenience and intelligent features which makes it a worthwhile investment.
Check out LG WashTower on Amazon & LG Official site.