Unveiling Google Pixel Watch 2: What Makes It the Best Choice
Pixel watch 2: Everything you should know
The long-awaited pixel watch 2 is here with significant improvement in battery performance, stylish design and a powerful processor. It is priced at $349. The new version is built after careful consideration and addresses many flaws pointed by users in previous generation. Google is proving its mettle in the healthtech industry with the new improvements in pixel watch 2 and keeping its promise to periodically improve the product in next versions.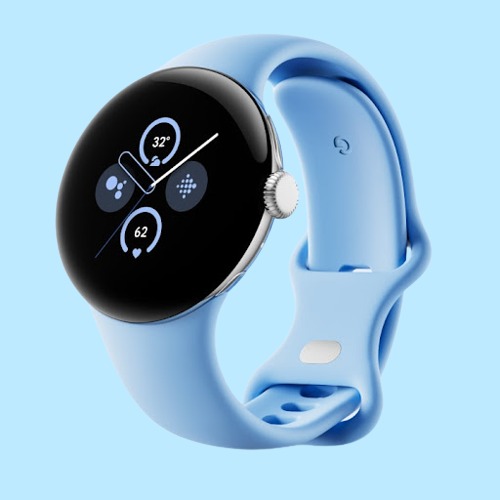 | | |
| --- | --- |
| Pros | Cons |
| Improved battery life with 24 hours backup on single charge | Not repaired by Google or any third party, nor any parts available for replacement. |
| Lightweight aluminum design made from recycled aluminum. | A bit expensive than other top brand watches at price $350. |
| Faster Qualcomm Snapdragon Wear 5100 processor. | Requires daily charging for everyday use. |
| New safety check feature for emergency contact | New proprietary charger that works in one direction. |
| Three new sensor upgrades | Doesn't have sapphire glass for protection like other smartwatches at this price point. |
What's good about google pixel watch 2?
Design and Size
Google has kept its stylish design and shape, which is a standout feature in the google pixel watch series. The design comes with sleek and minimalist look which is a perfect fit on the wrist. It has a 41mm case, domed glass design and lack of watch band bugs making it a perfect combination of beauty meets technology.
Considering the big bulky smartwatch designs available in the market, Google's 41mm size is a true blessing. It is a perfect fit for every wrist, even the smallest once. The smooth pebble shaped glass design is comfy to wear throughout the day, making it ideal for everyday use. It also has more strap options to match your favorite outfits.
The screen features a 1.2-inch circular OLED display with a 384 x 384 pixels resolution. Google says it has a durable cover glass protecting the device from scratches and dents.
You may also like: Diwali Bonanza 2023: Top 5 electric scooter in India on Sale
Battery life
The battery issue is resolved in the new pixel watch 2 version. The device is loaded with a 306mAh lithium-ion battery. It comes with improved battery time promising a full day battery backup with the always on display active. The new Qualcomm chip processor sure helps the device in improving the function and saving energy. Compared to other top smartwatches in terms of battery life it's not special, but it certainly meets the expectations of most user.
The faster charging rate allows the device to reach 50% in less than 30mins. The new case made from recycled aluminum allows bigger battery in the system. The aluminum case also helps to make the device a bit lighter on wrist to wear.
Performance
The old Samsung chip is replaced with Qualcomm's newest wearable chip, the Snapdragon Wear 5100 in new pixel watch 2. It is a 4nm chip which gives a boost to performance without consuming much power. It is also equipped with a quad core CPU for smoother and stronger performance. Letting users effortlessly track health, manage notifications and utilize Google Assistance without any lag.
The new chipset allows the user to multitask smoothly. You can use the sensors during workouts and also manage notifications at the same time without any lag.
Operating System
The pixel 2 smartwatch is equipped with full capabilities of Wear OS 4. It helps to customize the watch as per your needs. The OS 4's smart notifications feature shows preview images and GIFs on screen. It also allows to make a call, send message or get directions with just one tap on the screen. The bold text and better text to speech feature helps improve screen readability for users.
Switching to a new phone or watch gets easier with Google's watch transfer. It allows to pair to a new phone, or backup and restore to transfer data and settings from previous pixel watch without any hassle.
Sensor Upgrade
The Pixel watch 2 comes with three new sensor upgrades.
An all-new Heart Rate sensor with numerous LEDs. It is paired with the latest AI heart rate algorithm to produce accurate heart reading. It can give 40% more accurate date for vigorous activities like HITT, rowing and spinning.
Continuous electrodermal activity (cEDA) sensor. It is powered by Fitbit's Body response feature. This new sensor helps to track stress with the help of machine learning algorithm that incorporates skin temperature, heart rate and heart rate variability.
Skin temperature sensor. It measures the skin temperature at night to track the sleep pattern for overall wellness.
Google Pixel watch 2 price in India
The Pixel watch 2 is available in India at Rs.39,900. It can be ordered through Amazon or Flipkart. During the launch offer it had a discount if bought with Pixel 8 phone.