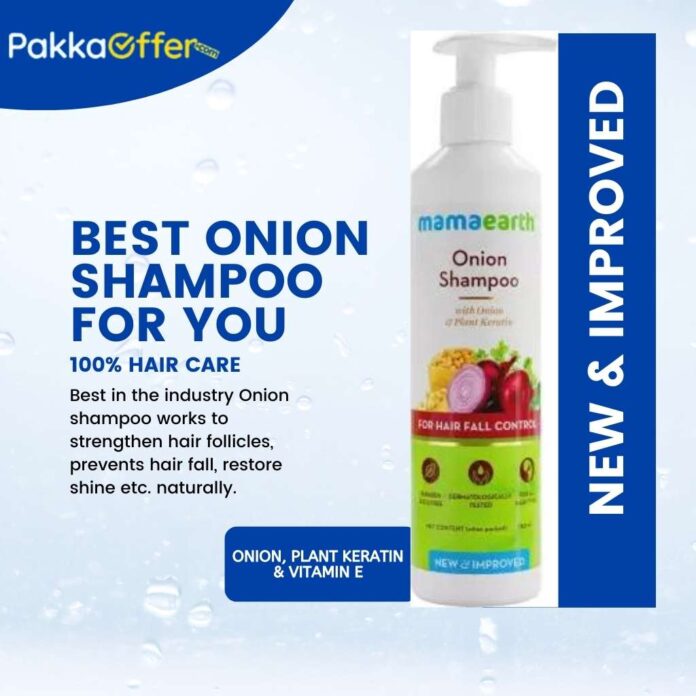 Scalp issues like hair thinning, hair fall, greying, dandruff, etc are common these days because of the hectic lifestyle, stress and pollution. And sometimes, dealing with these problems could be frustrating as you can't always search for the best onion shampoo that suit your hair type. Top brands on the market claim to offer various solutions to hair issues and one such solution is the onion-infused shampoo.
Onions are known to contain sulphur that promotes hair growth, prevents hair loss and also supports strong and thick hair. So, if you are looking for a solution to your hair issues, this article is for you. We enlist a few best onion shampoo that could be a great pick. These shampoos are infused with onion juice and provide you with various hair and scalp benefits.
Mamaearth Onion Shampoo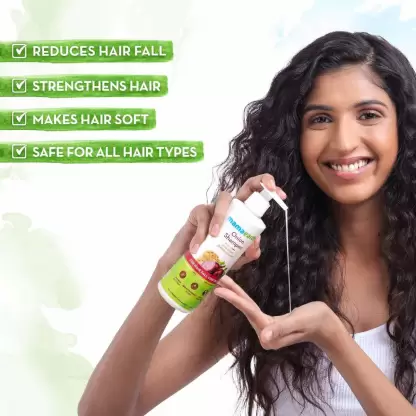 Specially formulated to reduce hair fall, this shampoo stimulates the scalp and advances blood circulation, thereby promoting hair growth. It contains the goodness of Plant Keratin that makes hair frizz-free and softer to feel. This shampoo retains the natural oils while gently cleansing the scalp. Keratin takes care of the dryness and reduces hair damage, to promote healthy hair. This shampoo is made with all-natural ingredients and is therefore not harmful to the hair. It is also the best buy for chemically-treated hair, as it gives nourishment and supports hair growth.
Wow Onion Shampoo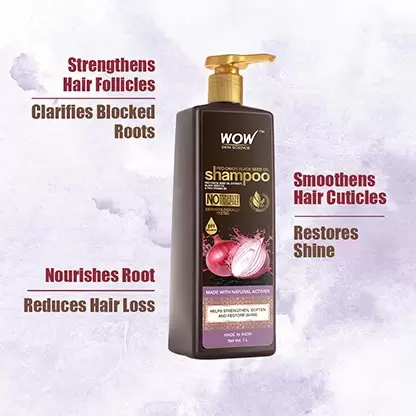 Wow brings one of the best hair care formulations with this onion shampoo that promises healthy hair from the roots and checks on hair fall. Infused with the goodness of red onion extract, this shampoo is rich in antioxidants, nutrients and vitamin E that moisturize weak hair and also protect them from the roots. Black seed oil improves circulation that ensures healthy and strong hair. This shampoo is perfect for those having issues such as dandruff, dryness, scalp eruptions, etc. The anti-inflammatory ingredients help support hair growth while countering other scalp issues. Natural ingredients present in the shampoo ensure that your hair gets enough hydration and strength. This red onion oil with black seed oil also rejuvenates the scalp while improving the overall texture of the locks.
Sunsilk Onion Shampoo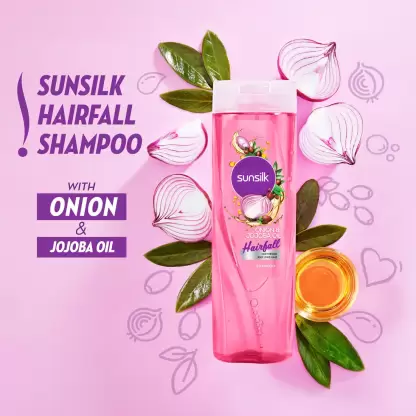 Onion oil and Jojoba Oil come together in this formulation from Sunsilk, which promises nourishment, along with stronger hair. This anti-hair loss shampoo consists of natural ingredients rich in vitamins and minerals that render health and nourishment to the scalp besides promoting hair growth and resisting hair loss. Onion oil provides multiple hair benefits including moisturizing and nourishing hair from the scalp to the tips. Sunsilk Onion shampoo also promises to help hair growth and yield longer and stronger hair. With a 90% naturally derived formula, Sunsilk onion shampoo is among one of the best and easy-on-pocket products.
The Indie Earth Red Onion Shampoo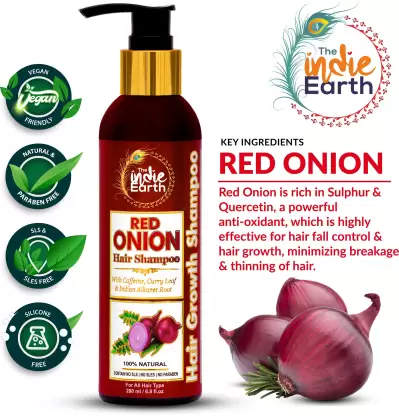 This unique formulation from The Indie Earth promotes healthy hair by preventing hair breakage and thinning and encouraging hair growth. This onion-infused shampoo powered with the extracts of Aloe Vera soothes itchy scalp and deep cleanses oily hair to give more lustrous and healthier-looking locks. The natural ingredients also render the hair softer and shinier. Onion takes care of the falling hair and also promotes hair growth. This shampoo also includes the goodness of Almond Oil which effectively controls hair loss and also checks on split ends. The Nutgrass extract cleanses the scalp off the dirt and dandruff. This product from The Indie Earth is free from Sulfate and Paraben.
Newish Red Onion Shampoo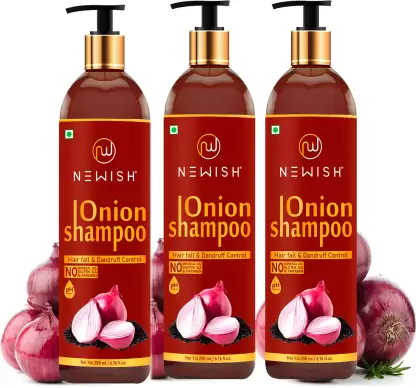 Dreaming of silky, shiny and bouncy locks? This shampoo is for you. Laced with the benefits of natural ingredients, such as, amla, reetha, hibiscus, shikakai, aloe vera and red onions, this unique formula promotes hair growth. It helps stop hair fall and has impressive antifungal properties that fight scalp infections that cause massive hair loss. It also nourishes the hair follicle and restores the health of the hair while offering anti-dandruff properties. Newish Red Onion shampoo is Paraben and SLS-free formula which minimizes hair breakage and thinning. This shampoo is packed with antioxidants that counter-fight free radicals. It also supports hair regeneration besides making hair shine with health and nourishment.
Khadi Natural Herbal Onion Shampoo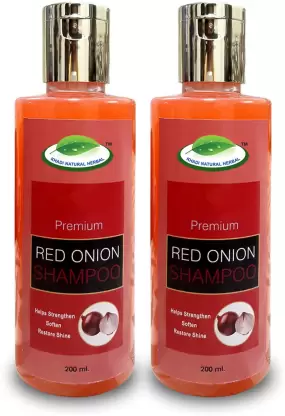 This shampoo is perfect for sensitive scalps which tend to get itchy and irritable due to weather conditions or pollution. Known for natural and toxin-free products, the Khadi Natural Herbal brand brings this wonderful formula for an infection-free and healthy scalp. This shampoo is infused with the goodness of red onions which helps to keep your scalp free of dandruff and other hair issues and promotes hair growth. It is one of the best onion shampoo in the market which also improves blood circulation and cleanses the scalp while maintaining moisture. This shampoo is a gentle formula which makes the hair soft and bouncy and also maintains its lustre.
Oriental Botanics Red Onion Hair Shampoo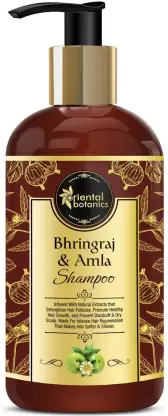 This hydrating and nourishing formula from Oriental Botanics is unique in itself as it is a mild shampoo enriched with natural oils and herbs that cleans the scalp mildly yet effectively. It leaves the hair soft, smooth and lustrous, with volume as a perk. This shampoo also strengthens the roots, therefore reducing hair fall. It also encourages hair growth and minimizes split ends. This unique formulation contains 27 best-quality botanical elements that effectively cleanse the hair without damaging them. The natural oils in the shampoo provide hydration so that the hair does not look or feel dry after shampooing. This shampoo is also good for the hair follicles as it is rich in bioactive components. Free of toxins and paraben, silicon and sulphate, the Oriental Botanics Red Onion Shampoo is a great buy for those looking for value for money and a great product.
Conclusion
Hair issues can be scary at times but can be sorted with good care and some great products to back. Onion juice has been used for ages for promoting hair growth and also for countering various scalp issues. Onion shampoo is a great remedy for consistent hair care that brings results and counter-fights hair and scalp problems. The shampoos mentioned in this list are one of the best onion shampoo in the market and are trusted by masses for fighting issues such as hair fall, dandruff, itchiness, etc. Apart from these, home remedies like home made face packs have always been performer.
If you have read through this article, then which one is your pick?