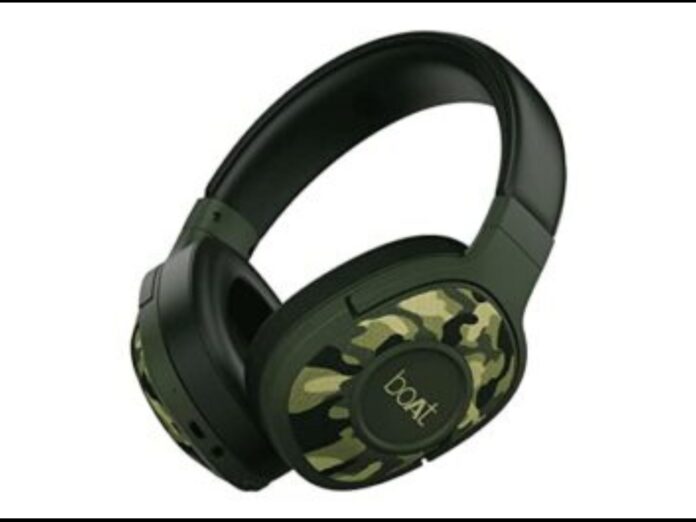 BoAt RockerZ 550 Review: If you are a music freak but couldn't get a good music experience as your headphone doesn't have enough features to meet your expectations, you should check out Boat RockerZ 550 over-ear wireless Bluetooth headphones. The boAt has launched the RockerZ 550 over-ear headphone on the 5th of August 2020 in India on the day of an e-commerce website's sale. Surprisingly, the product had gone out of stock within a few days of launch.

In this Boat RockerZ 550 review article, we will discuss the specifications, pros, and cons, build quality, sound, look and feel, features, mic performance, battery backup, etc. so that you can get a complete insight into the product and make the buying decisions accordingly.
Boat RockerZ 550 Pricing
The price of the Boat RockerZ 550 headphone is 1999/- on it's official website. The prices of the product are not too high considering the features of the product. The prices may very slightly on different platforms.
You can get the best deals during festivals, even you can save more money by applying coupons and discounts that can be availed from different coupon websites.
What's Unique
Stylish Design
Very comfortable with soft cushioning
Excellent battery backup
Unboxing Boat RocerZ 550
One Boat RockerZ 550 wireless over-ear headphone
AUX cable
USB A to Micro USB Cable
User Manual
Warranty Card
Boat RockerZ 550 Specifications
1. General
| | |
| --- | --- |
| Brand | Boat |
| Model | RockerZ 550 |
| Colors | Black, Red, Marron, Darkgreen, Orangered |
| Warranty | 1 Year |
2. Performance
| | |
| --- | --- |
| Frequency response | 20Hz – 20KHz |
| Impedance | 32 Ohm |
3. Connectivity
| | |
| --- | --- |
| Bluetooth | Yes |
| Bluetooth Version | V 5.0 |
| Bluetooth Range | 10m |
| Comatibility | All bluetooth devices |
4. Microphone
5. Battery
| | |
| --- | --- |
| Standby Time | 180 hours |
| Charge Time | 1.5 hours |
| Playback Time | 20 hours |
6. Dimensions
| | |
| --- | --- |
| Weight | 245 gram |
| Dimensions | 162 x 86 x 224 mm |
Pros
Strong Build Quality (Blend of Aluminum and Plastic)
Comfortable and big earcups
Tiltable Design
Clean Treble and Good Bass
Good battery backup (Up to 20 hours)
Dual Mode (Battery plus AUX)
Available in different colors
50mm audio drivers
Bluetooth V5.0 with 10m range
Cons
Not Foldable device
Bass is good but no prominent
Noise isolation is average
Boat RockerZ 550 Build Quality
Generally, the build-quality of boAt products is very good. We have seen many headphones under 2000 but the build quality of those headphones was not up to the mark. It also has a really good build quality with eye-catching looks and texture.
BoAt RockerZ 550 is made with a blend of plastic and aluminum material. The headband adjusters of the headphone are aluminum instead of plastic making them sturdy and durable. The headband is very flexible and it can fit any head size without any problem.
The earcups are tiltable with the help of hinges that are made of plastic material. You can tilt them effortlessly to adjust for the best comfort. A good headphone is comfortable, portable, and durable, that is something you get in boAt rockerZ 550.
The light weight of the product is an added advantage as it makes transportation easy and you can wear them for long hours. After using this product for more than 3 months rigorously, I can say that the boAt rockerZ 550 is durable.
Boat RockerZ 550 Design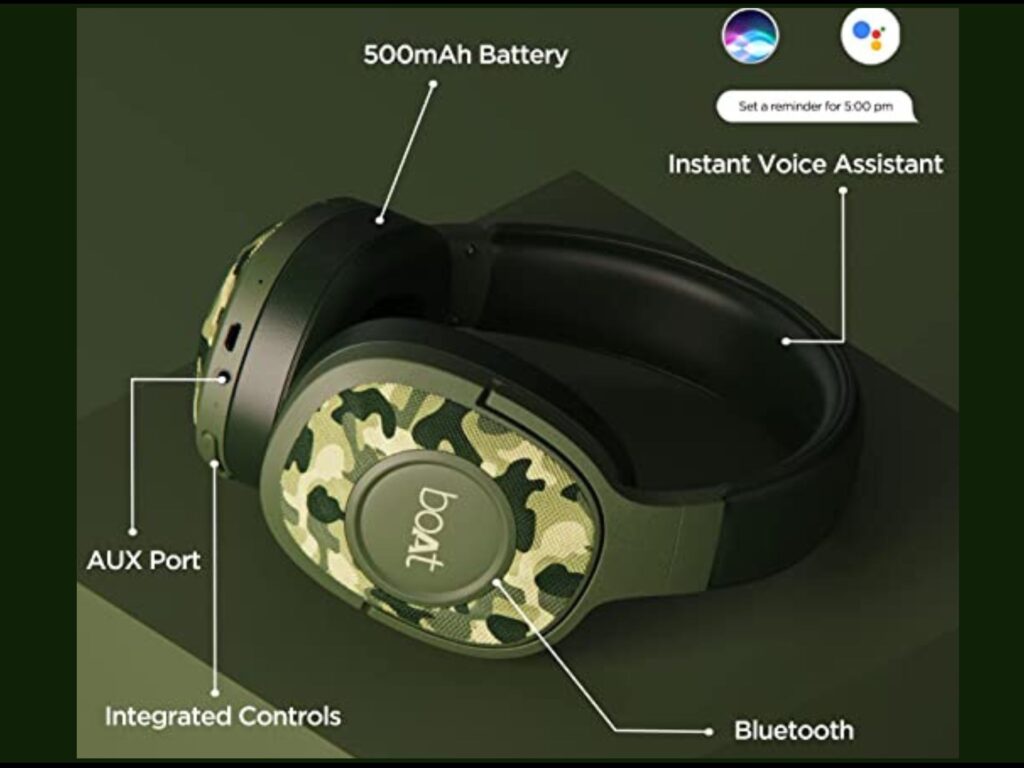 The design of the headphone looks very premium in the segment. It is quite comfortable with cushions in the headrest and the earpieces. The ear cups are big enough to cover your ears. The ear cups are tiltable so you can rest them on your neck when you are not listening to music. However, the headphones are not tiltable. We have thoroughly tested the device so that you can have a genuine boat rockerZ 550 review.
BoAt rockerZ 550 is available in exclusive designs with a boat logo on both of the earpieces. The length of the headphone is adjustable and the volume buttons, power button, 3.5 mm jack, microphone and LED indicator have been given at the lower side of the right earpiece.
The headphone is available in 5 different colors i.e. red, black, marron, orange-red and dark green. It looks unique and stylish, especially the dark green one that I wanted but managed to get the black one as that dark green was out of stock. The boAt logo at the center of both of the earpieces enhances the look of the product.
Boat RockerZ 550 Audio Quality
The boAt rockerZ 550 has been designed especially for music lovers. The sound quality is exceptional with clear vocals along with decent noise cancellation features. The device is equipped with 50mm audio drivers that can pump out immersive sound for a greater musical experience for the users.
You can listen low end quite well at approx 60 to 70% volume. The bass of the headphone is not so great but it's good enough to make your ears thump. The clamping force or you can say, pressure of the earcups is not too much, so you can wear them for long hours very easily.
You can experience crystal clear lows, mid, and highs. With increasing volume, treble picks up the pace along with the clear vocal and instruments. The loudness of the headphones doesn't make you uncomfortable and it is the perfect piece for people who love to listen to songs at full volume.
Boat RockerZ 550 Battery
The company claims 20 hours of battery backup with the help of a 500 mAh big battery. The battery is durable as many users have great experiences with the battery even after 6 months of proper usage. The playback time of the headphone is 20 hours and it takes only 2.5 hours to charge them fully. The standby time of the device is 180 hours.
With that much of a backup, you can enjoy non-stop music for a week without the need of charging, if you use it for 3 hours a day. While we have found in our boat rockerZ 550 review that listening to around 50 to 60 percent volume could give you more than claimed playback time.
The boat RockerZ 550 headphone comes with a micro USB and it doesn't support fast charging. It supports dual mode which means if you are running out of battery, you can connect the headphones through an AUX cable.
Boat RockerZ 550 Connectivity & Controls
The boAt rockerZ 550 comes with advanced Bluetooth version V5.0 and it is compatible with all Bluetooth devices like mobile phones, laptops, tablets, etc. It covers a wide range of area about 10m.
Pairing with devices is very easy with boAt rockerZ 550 headphones. Once paired, it automatically gets connected to the devices. We tried to connect by putting the phone about 10m away to check the connectivity, the headphone works excellent even from that distance.
The controls of the headphone are provided in the right earpiece of the headphone. There is a volume rocker to control the sound when it is paired with a Bluetooth device. The power button allows you to turn on or turn off your device and it can also be used to receive or deny phone calls. By pressing the power button for a few seconds, it turns on voice assistants.
Why Should You Buy BoAt RockerZ 550?
The boAt rockerZ 550 headphone offers good build quality with great battery backup. It looks premium and is available in different colors. The 50mm audio drivers in the device can produce immersive sound. These fashionable headphones are very comfortable.
Keeping in view all these features in this price range, you can go for it. But if you are looking for headphones for calling purposes or that support fast charging with a type C charger then you can avoid buying them. The microphone of the device is not so great, it does not cancel the background noise. Thus, the device is not for professionals.
Final Verdict
The boat rockerz 550 is the best choice for people who are looking for a budget headphone with good audio quality and battery backup. These headphones have best-in-class features, Especially 50 mm audio drives are the biggest audio drivers under 2000, and are designed keeping in view the party lovers.
So, In this article, we have discussed the Boat RockerZ 550 Review in detail. If you found this article helpful, please share this with your friends and family members. For any questions or suggestions, you can write in the comment box.
---
Frequently Asked Questions (FAQs)
Can we connect AUX cable to Boat RockerZ 550 Wireless Headphone?
Yes, you can connect the AUX cable to your boat rockerZ 550 headphone in case your head phone's battery is down or you wanna save it for the future.
How long does it take to charge? Does it support fast charging?
The boat rockerZ 550 takes 2.5 hours to fully charge and it does not support fast charging. You can charge your headphone with a mobile charger also.
Boat RockerZ 550 headphones are good for voice calls or not?
Yes, the rockerZ 550 is not so good for voice calls and meetings. The microphone's performance is average. A single press on multi-function buttons connects you through the call.
Are Boat RockerZ 550 headphones dust and water resistance and good for running and Sports in General?
Yes, Boat RockerZ 550 on-ear wireless headphones have IPX5 dust and water resistance which makes it perfect for sports and adventures.
Does Boat RockerZ 550 has connectivity with Bluetooth versions below 5.0?
Yes, it not only connects with the Bluetooth V5.0 but many other Bluetooth versions too. it takes only seconds to connect your device to headphone via Bluetooth. It connects with devices within 10 meters of range.