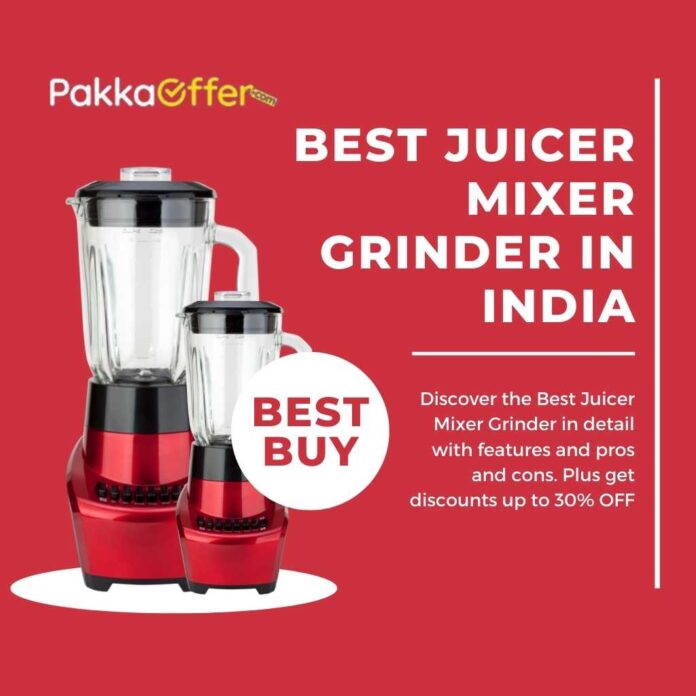 A juicer mixer grinder has become a fundamental part of every family kitchen.. Today people are looking for mixer grinders that can grind almost everything like spices, fruits, and vegetables and help make batters, pastes, purees, chutneys, juices, shakes, etc. Instead of getting a different appliance for each item, people want it multi-purpose to meet their requirements. Usually, the best juicer mixer grinder has high wattage and has at least three or more grinding jars for different eating items. Here, you will learn about the best juicer mixer grinder available in the Indian market.
1. Bosch Pro 1000W Mixer Grinder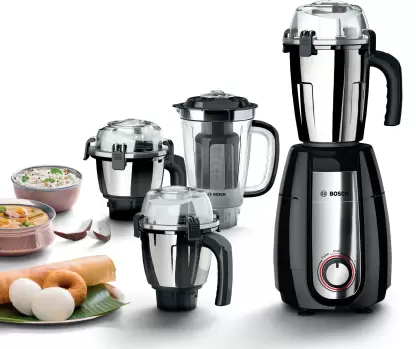 Bosch Pro 1000W Mixer Grinder is a blend of German technology that meets your every culinary requirement. It is well-equipped with advanced grinding technologies that do not alter the traditional taste of your favorite cuisines.
Features
Pros and Cons
Pros
It has high-quality stainless steel jars with high performance blades.
You can enjoy hands-free operation with unique and powerful leak-proof lids.
Better overload management 
Cons
Some users may find it noisy.No LED indication
Not very easy to clean
2. PHILIPS HL7777/00 750W Mixer Grinder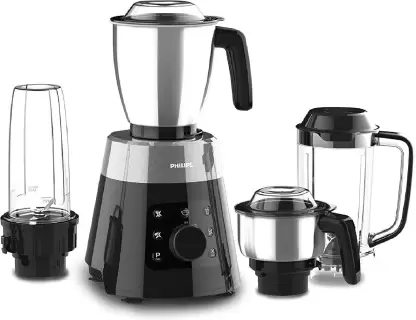 Philips is a known brand in India. Its HL7777/00 750W Mixer Grinder is one of the best mixers in the Indian markets to make your kitchen look sleek and modern.
Features
Pros
The mixer has a very sturdy, attractive, and sleek design.
Intelli-speed technology for optimum speed.
Cons
Some users may find it a bit expensive and noisy.
3. Sujata PP+C Mixer Grinder
Sujata is known as the best juicer mixer grinder company. It has a proven track record of delivering top-quality mixer grinders in many hotels, cafes, restaurants, homes, etc. Sujata Powermatic Plus Juicer Mixer Grinder is a sturdy and reliable companion for your kitchen.
Features
Pros
Low maintenance and easy operations
90 minutes of continuous running (claimed by brand)
Easy to clean
Cons
Some customers have issues with its noise level.
It could take time to clean.
4. Havells Silencio 4 Jar Mixer Grinder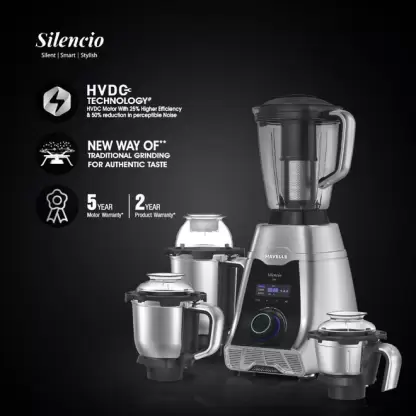 Havells is a known brand in India. The Havells Silencio 4 Jar Mixer Grinder is a good quality product and comes with four different jars of different sizes to meet varied purposes.
Features
Pros
Double layer insulated jars to ensure silent operation.
It has a user-friendly digital display. 
Three-way motor safety
Free post-sale demonstration of the product
It has a dual interlocking system between the Jar and the lid for safe food preparation in stainless steel jar.
Hand-free operation is possible.
Cons
It's not exactly silent. 
Cost may be a bit on the higher side.
5. Bajaj Rex Mixer Grinder
The Bajaj Rex Mixer Grinder 500W is an efficient blend of quality and performance. It is built with corrosion-proof top-quality ABS plastic offering 20000 rpm.
Features
Pros
Affordable price
Easy to operate
Multi-functional blade technology
Sleek design
Cons
Noise can be bothersome for some customers.
With 500W motor may not meet all your needs.
6. Hamilton Beach Professional Juicer Mixer Grinder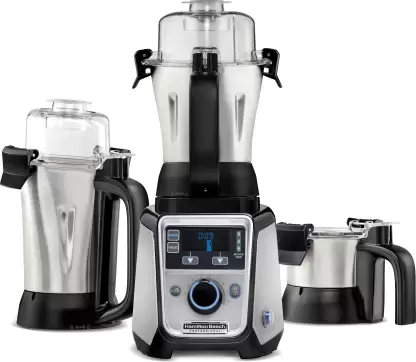 This Hamilton Beach juicer mixer grinder can help you tackle your daily kitchen tasks and deliver improved performance, sturdiness, and safety. You can grind even the toughest ingredients. The mixer's triple motor overload protection will ensure safe operation.
Features
Pros
Attractive design
Easy to use 
All-metal body with minimal use of plastic, hence, less wear and tear
You can use it for both personal and commercial purposes
7. Butterfly Jet Elite Mixer Grinder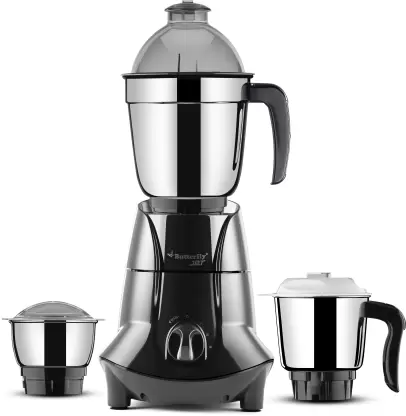 This 3-speed setting mixer has four jars of different sizes, a juicer jar, a jar with a lid for wet ingredients, a liquid jar with a lid, a dry jar with a lid, and a chutney jar with a lid. The mixer grinder has a shock-free sleek design.
Features
Pros
Sturdy handle
Anti-slip pads at the bottom
Attractive design 
Affordable pricing
Cons
Noisy operation
Poor post-sale service
8. Philips HL7505 02 500-Watt Mixer Grinder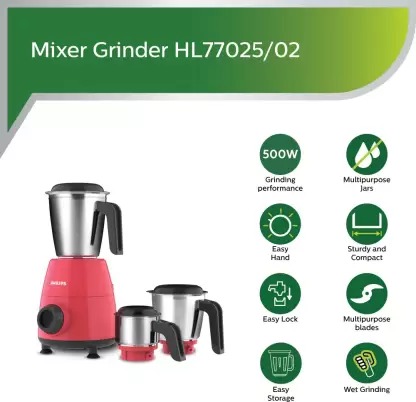 The Philips HL7505/02 has a 500-watts motor for easy grinding of hard ingredients. It offers three stainless-steel jars with easy-grip handles and high-performance stainless-steel blades for proper grinding and mixing of ingredients.
Features
Pros
Sturdy build
Light-weight and grind easily
Cost-effective
Cons
The cable is not long enough.
Some users may have an issue with the quality.
9. Preethi MG-218 Zodiac 750 W Juicer Mixer Grinder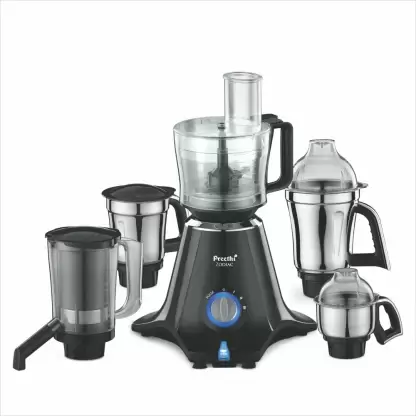 The Preethi MG-218 Zodiac has a powerful motor for robust operation. The mixer has an attractive design and user-friendly features to make it a great addition to your kitchen.
Features
Pros
Elegant colors and sleek design
Easy to use
Easy to clean
Vega W5 motor with a 5-year warranty
Cons
Noisy operation
The quality requires improvement
10. Panasonic MX-AC400 550-Watt Super Mixer Grinder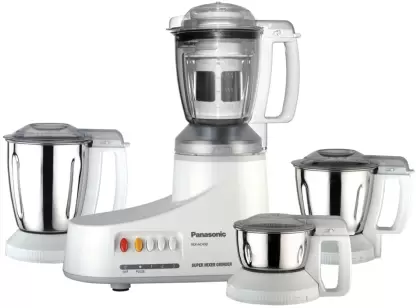 This Panasonic grinder offers smooth operation with its efficient design. With its compact design, it is a good choice for small kitchens.
Features
Pros
It comes with different jars for wet grinding, blending, egg beating, ice crushing, juice blending, etc. 
Easy to handle.
Sturdy handles.
Cons
A bit on the heavier side.
A burning smell may come during initial usage.
Conclusion
So here you have learned about the best juicer mixer grinder. There are many juicer mixer grinders available in the Indian market. It can be overwhelming to choose the one that would suit your needs in the best possible way.
Each product in our list of best juicer mixer grinder is different. You can trust the brand quality and performance. While all products are great, it depends on how you use them. We would still suggest that you do your research before making any final decision.