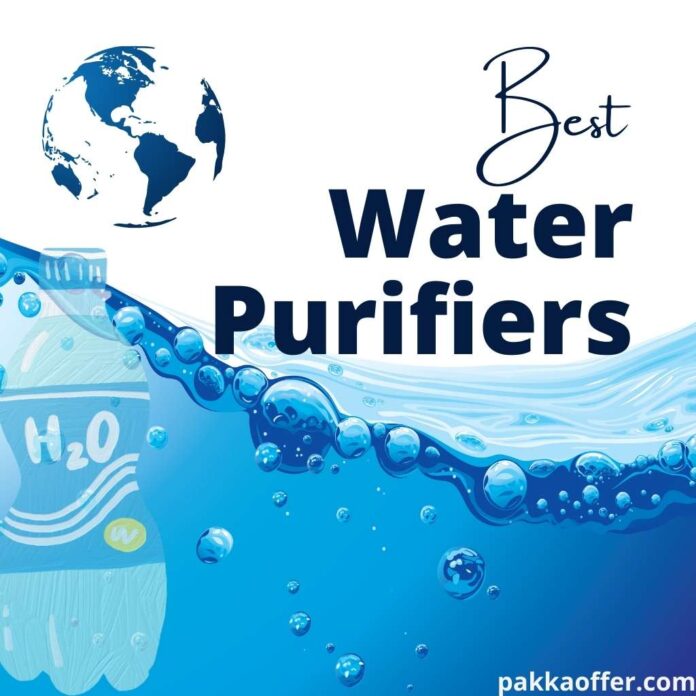 Sorry to say, but if you don't have a good water purifier, it's not a hygienic lifestyle! Let's be honest. No matter where you live, Delhi, Mumbai, or the other metros; the tap water from the corporation is not exactly the best drinking water. The bottom line is, you need to research the best water purifiers for your home.
You should never compromise the health of your loved ones. Waterborne diseases are real! Unfiltered water lets the germs in water free access to your body. Look up and compare the best RO water purifiers to choose the best one for your household needs.
Is it acceptable to you? Of course, no!
In many places in India, tap water consists of dissolved minerals much higher than the acceptable limit. This is a particular problem in urban India because of the constant depletion of the underground freshwater level.
At the current level of boring, the water often churns up high levels of dissolved impurities such as iron, lead, and arsenic. Industrial activity in urban centers causes a percolation of these metals into the water supply. Consuming this water daily can lead to serious health problems.
Furthermore, corporations often add copious amounts of water-purifying chemicals such as fluorine and chlorine. These chemicals not only give a bad taste to drinking water but also make it harmful to the body.
Think it over! You need a good water purifier now.
1. HUL Pureit Copper + Mineral Water Purifier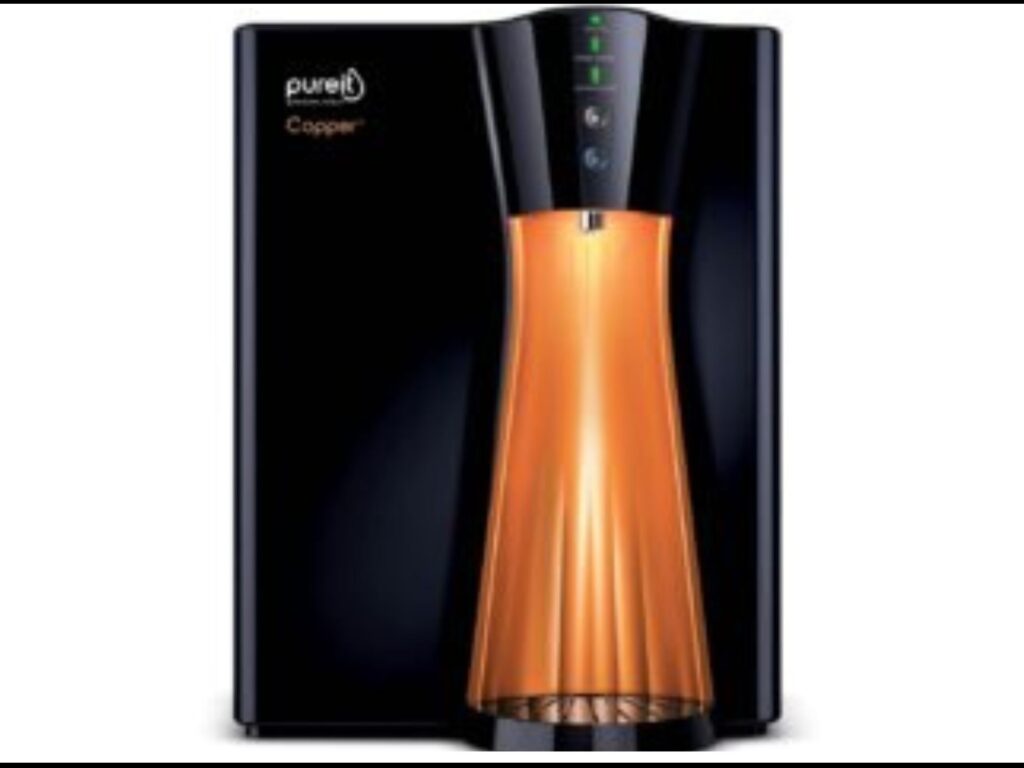 What makes the HUL Pureit water purifier claim the first spot in this list? Is it the amazing design that looks like a blaze of copper against a deep black background? Or, is it because it is very easy to use?
We believe that a good water purifier should be able to achieve the perfect balance between looks and functionality.
The HUL Pureit does just that! It presents the dual options to enjoy water enriched with copper ions or drink pure mineral water, simply with the press of a switch.
Features
IteIt has separate soft-touch buttons for dispensing water with or without copper ions.
The copper-ion dispenser works in real-time to enrich the water with 99.8% pure copper just before drinking.
The purifier features intelligent copper auto-cleaning features.
It mainly employs dual methods of water purification: sedimentation and ultraviolet filtration.
Pros
Real-time copper charge technology
Smart design
Option to drink RO water without copper
Advanced 7-stage purification (RO + UV + MF) system
Up to 8 liters water storage tank
Cons
No manual water tap
Costlier than other products
The manual drain plug is absent
The product is very popular on Amazon with more than 3,300 ratings. You can get it at a discounted rate.
2. Aquasure from Aquaguard Delight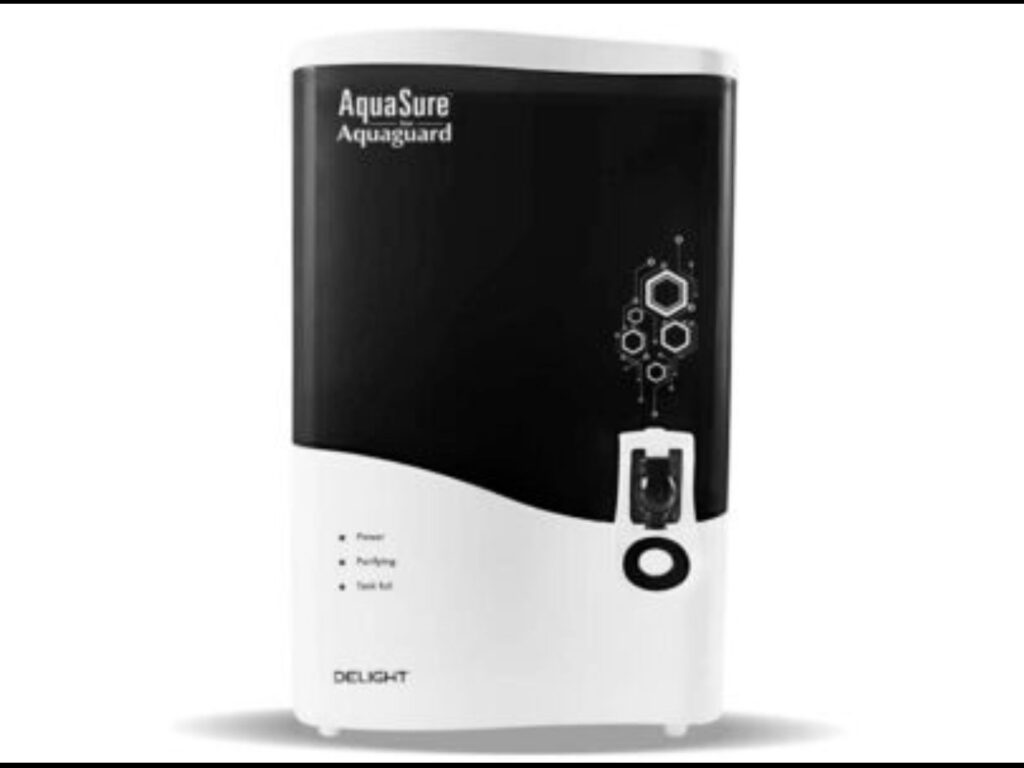 It is a powerful water purifier that is highly suitable for filtering the water supply anywhere in India. Aquasure Delight can filter water with a TDS up to 2000 ppm. Just for the record, a 2000 TDS means highly contaminated water which is unfit for drinking without proper filtration. Users can also use the TDS controller to adjust the water filtration level according to the quality of the municipal water supply. This ability renders a strong claim for it to be one of the best RO water purifiers in India.
Features:
It has 3 LED indicators for an easy user experience.
The filter cartridge will last up to the filtration of 6,000 liters of water.
6-Stage FilterMAxx Technology removes 99.99% of airborne viruses.
It has a timer mode that you can set for 1/2/4/8 hours.
Pros
7 liters water tank capacity
Saves up to 60% of water
RO + UV + MTDS filtration technology
Overflow protection saves water from wastage
Cons
The booster pump requires additional installation
Complaints with after-sales service
External power adaptor
The RO water purifier from Eureka Forbes is one of the most popular brands in the Indian market, with more than 14,000 ratings on Amazon.
3. Sure from Aquaguard Amaze NXT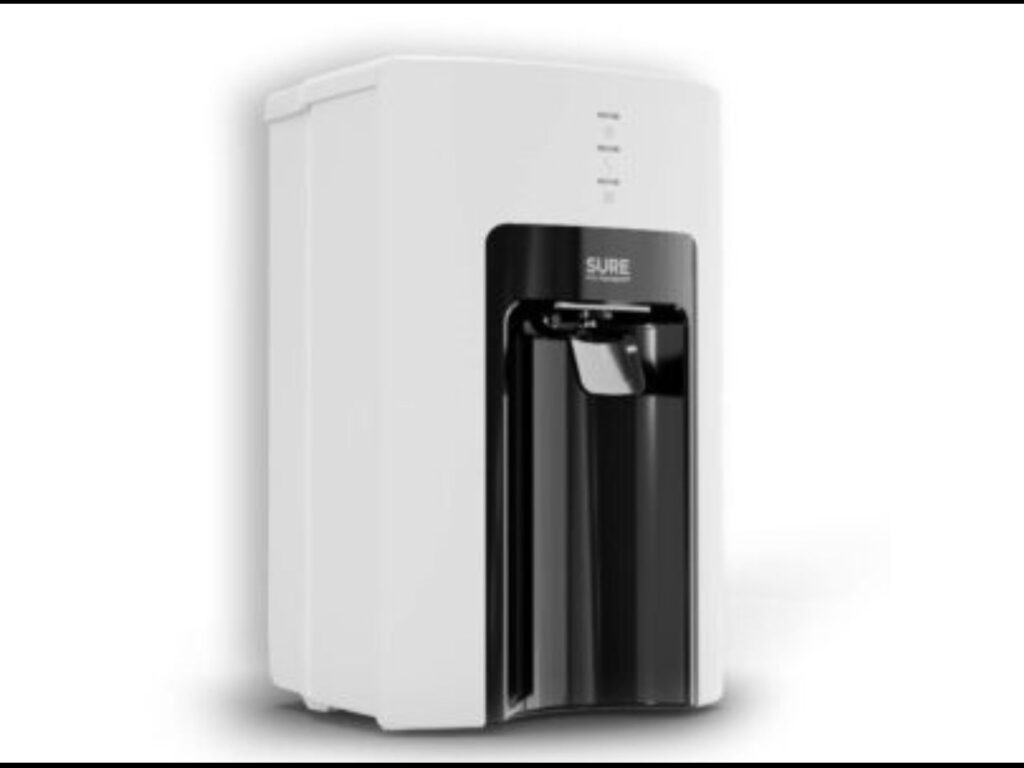 Aquaguard is a reputed brand fr water purifiers in the Indian market. So much so, a lot of people choose Aquaguard products over its competitors with their eyes closed! Sure Aquaguard Amaze gives you good reasons to choose it.
The wonderful e-boiling feature ensures that each drop of water has the same purity as you would expect after boiling water for over 20 minutes! The product is immensely popular on Amazon.
Features
It is suitable for filtering water from borewells and municipal supply.
The MTDS taste adjuster works amazingly.
LED indicator displays when the filtration cartridges need replacement.
Employs a combination of RO + UV + MTDS technology. 
Pros
Crystal-clear output with ultrafiltration technology
6-liter storage tank
Works even without electricity
Saves up to 60% of water
Can be placed directly on the kitchen countertop
Cons
Pay extra for pre-filter
Issues with after-sales service
4. Aquaguard Ritz Stainless Steel Water Purifier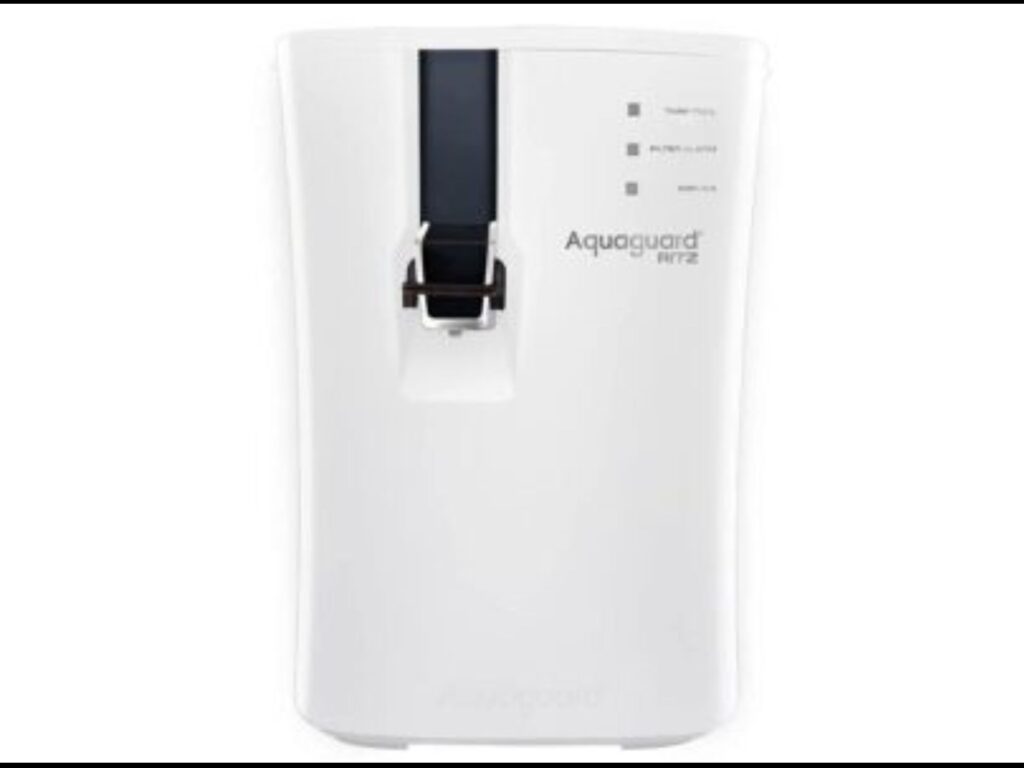 Go for this product if you are not comfortable with the quality of water stored in food-grade plastic containers. Food grade or not, the concept of plastic micro-particles seeping into water is not so healthy! The premium water filtration system employs an 8-stage purification process. The water stored in a stainless steel tank is made healthier with alkaline booster technology.
Features
Alkaline water effectively detoxifies the body.
It has a surgical-grade stainless steel tank.
The patented mineral guard technology preserves the natural nutrition of water.
UV boiling feature ensures each drop of water is as pure as after boiling for 20 minutes.
MTDS taste adjustor preserves the natural taste of water according to the TDS amount.
Pros
Corrosion-free stainless steel tank
No need for wall mounting
Works even without electricity
8-stage purification
Cons
Cheaper alternatives are available
Issues with after-sales
Limited capacity of 5.5 liters
5. Kent Elegant Water Purifier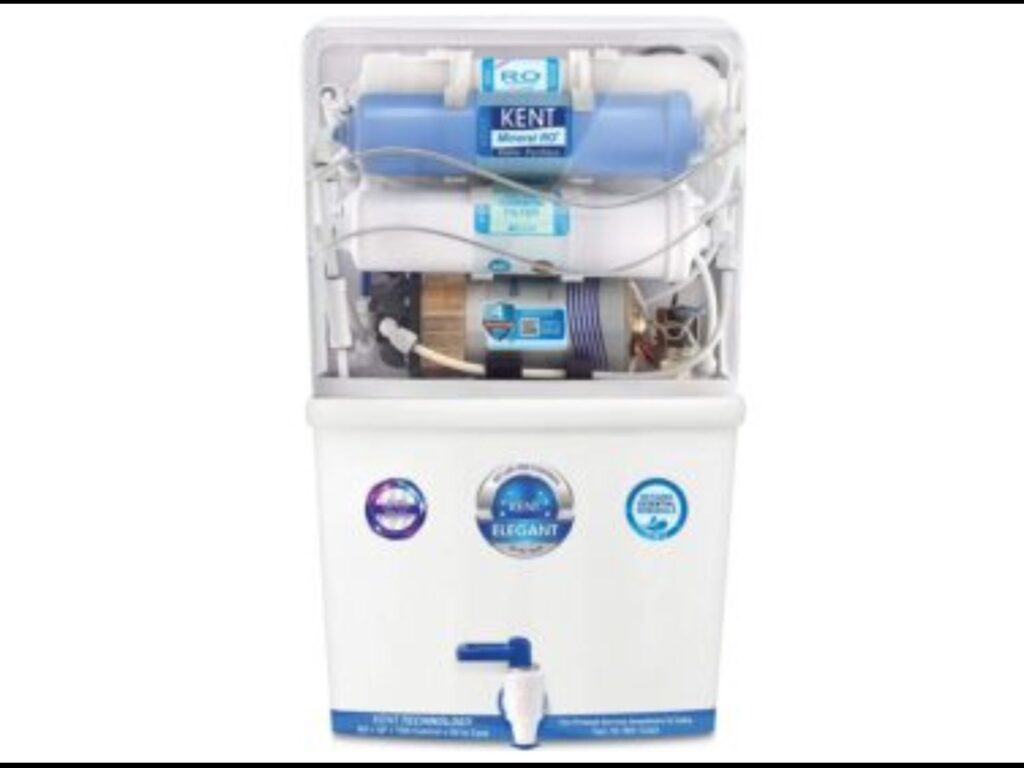 Kent is a good brand but seems to fall behind its competitors in several aspects. It usually does not offer anything so unique that other brands do not. Also, Kent seriously needs to improve on its design aesthetics, at least on the Elegant Water Purifier.
Making the filtration chamber transparent has not done well on its aesthetics as it looks like a piece of complex heavy equipment rather than an elegant purification system. However, if you have no issues with the aesthetics and dig the heavy-duty appearance, go for it!
Features
It has 8 liters storage capacity.
The purifier employs an RO + UF + TDS water filtration system.
Pros
TDS control system
1-year warranty
In-tank UV disinfection
Advanced water level indicator
Cons
Better-looking filters are available
Can't keep it on countertops
May have issues with after-sales
6. HUL Pureit Eco Water Saver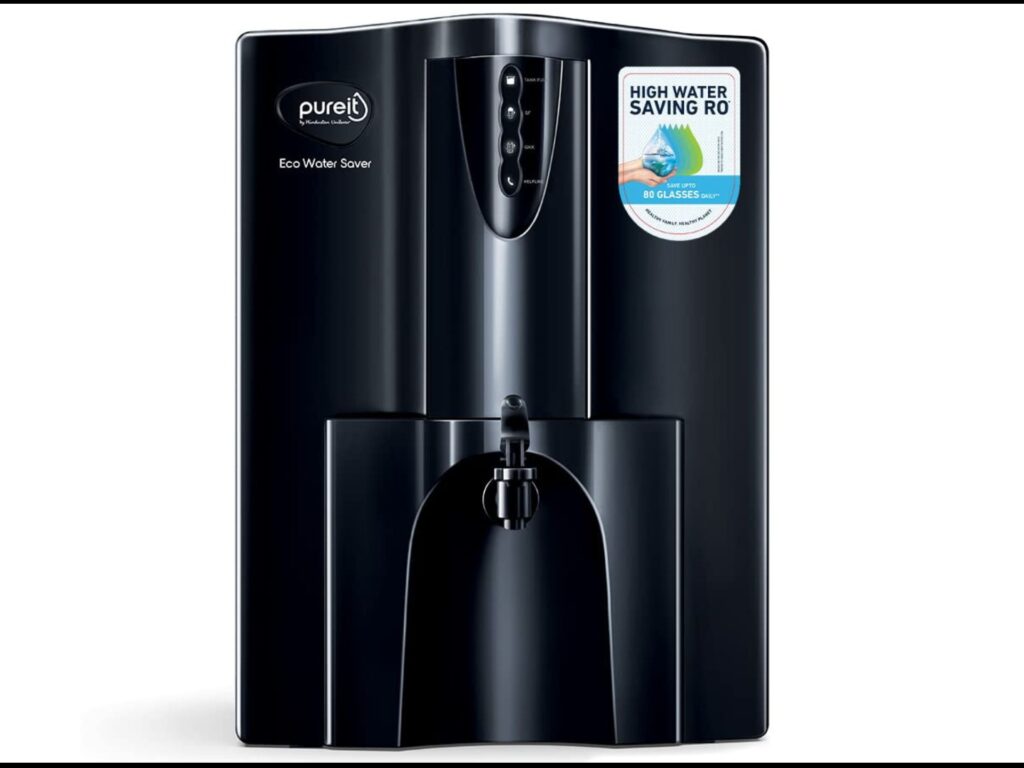 With more than 8,000 ratings on Amazon, the HUL Pureit Eco Water Saver is one of the best RO water purifiers available. HUL put in a lot of R & D to develop a product that recovers up to 60% water despite having a powerful filtration process. Compared to other RO water purifiers, it helps save up to 80 glasses of water per day. Combined with its huge 10-liter water capacity, this is the perfect product for a big Indian family.
Features
It depends on UV + RO + MF technology to deliver a constant supply of pure water.
It can purify water up to the maximum contamination of 2000 TDS.
The auto shut-off feature stops the purification process when the filters need replacement.
It has a fast purification capacity of up to 24 liters/ hour.
Pros
7-step purification process
Huge 10-liter capacity
Free Installation
Filters up to 2000 TDS
Cons
Exclusively wall-mounted body
External sediment filter
The product is currently available on Amazon at a hugely discounted rate. At this price range, it is one of the best water purifiers you can buy.
7. Konvio Neer Amrit Water Purifier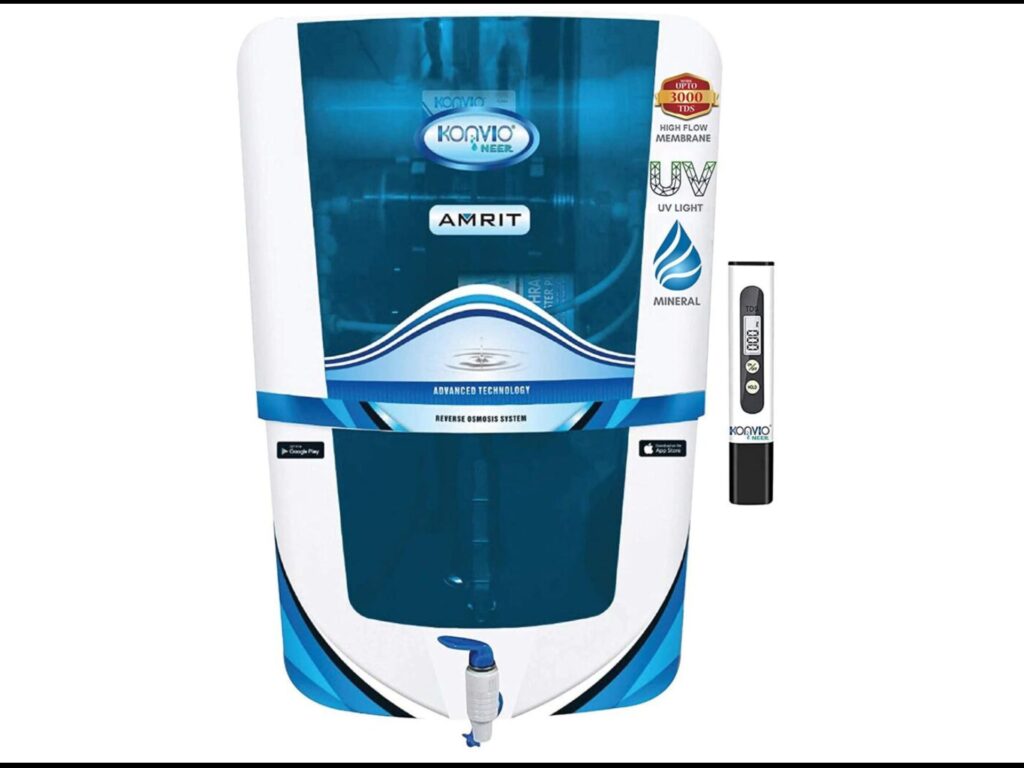 Are you in the market to buy the best cheapest water purifier? The Konvio Neer Amrit can easily fit your bill. It's a bargain when you get a 12-liter water purifier at this price! Even the biggest brands do not have such a high capacity. The water purifier employs an effective Reverse Osmosis system to remove tap water odor from fluorine and chlorine and prevents scaling.
Features
The Indian brand employs powerful a 7-step water purification process.
The powerful filtration system can support the purification of up to 3000 TDS.
It is available with a TDS meter, which not even the biggest brands provide.
The product features an attractive blue and white design.
Pros
Place it directly over the countertop
High-grade UV filtration
12 liters capacity
Can filter up to 3000 TDS
Low budget product
150 liters/day
Cons
May have issues with the LED indicator
Free installation is not available
Warranty not available
8. AO Smith Z9 Water Purifier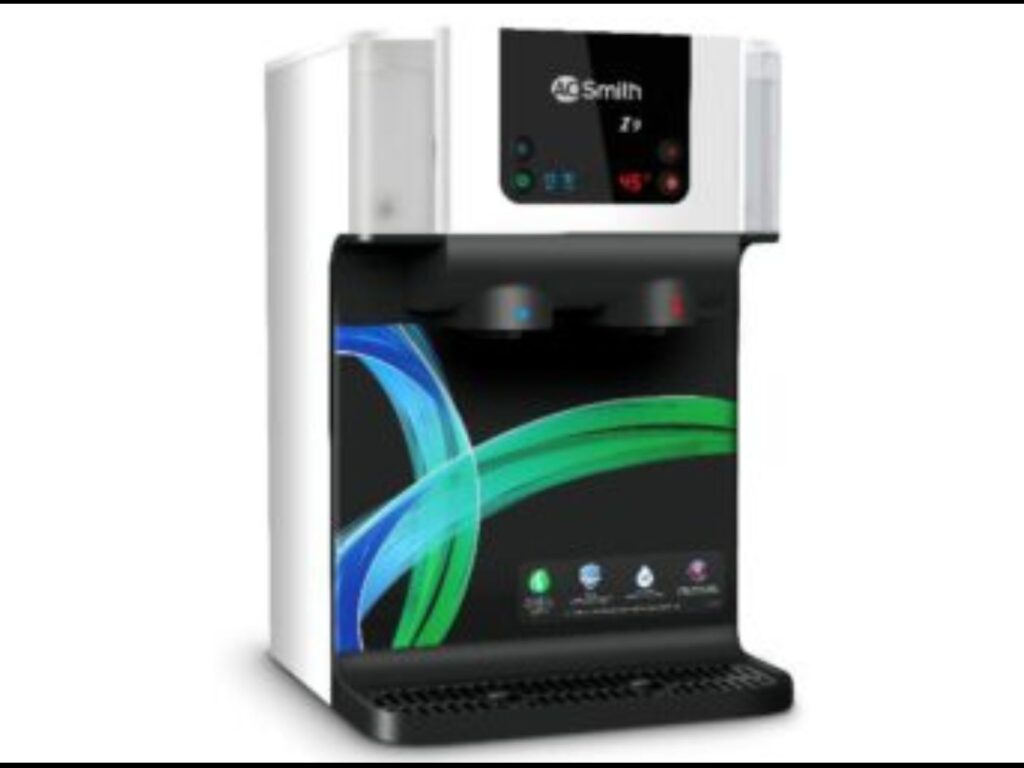 This advanced water purifier employs a set of powerful purification processes. The SCMT technology or Silver Activated Post Carbon Block method removes the minutest organic impurities by infusing the water with micro silver ions. In addition, it has MIN-TECH to preserve the natural taste of dissolved minerals in the water supply. The water purifier resembles a high-tech coffee vending machine and complements the aesthetic charm of your kitchen.
Features
It can purify water with a TDS level of up to 2000 ppm.
The water purifier has an 8-stage purification process.
The breakthrough Advanced Recovery Technology helps save up to 9000 liters of water per year.
It is the only RO water purifier that can dispense hot water at the press of a button.
Pros
Smart design
Instant hot water
SCMT water purification
10 liters tank capacity
Low power consumption
1-year warranty
Cons
On the expensive side
The refill process begins only after the water level is at 50% capacity
9. Livpure Glo Star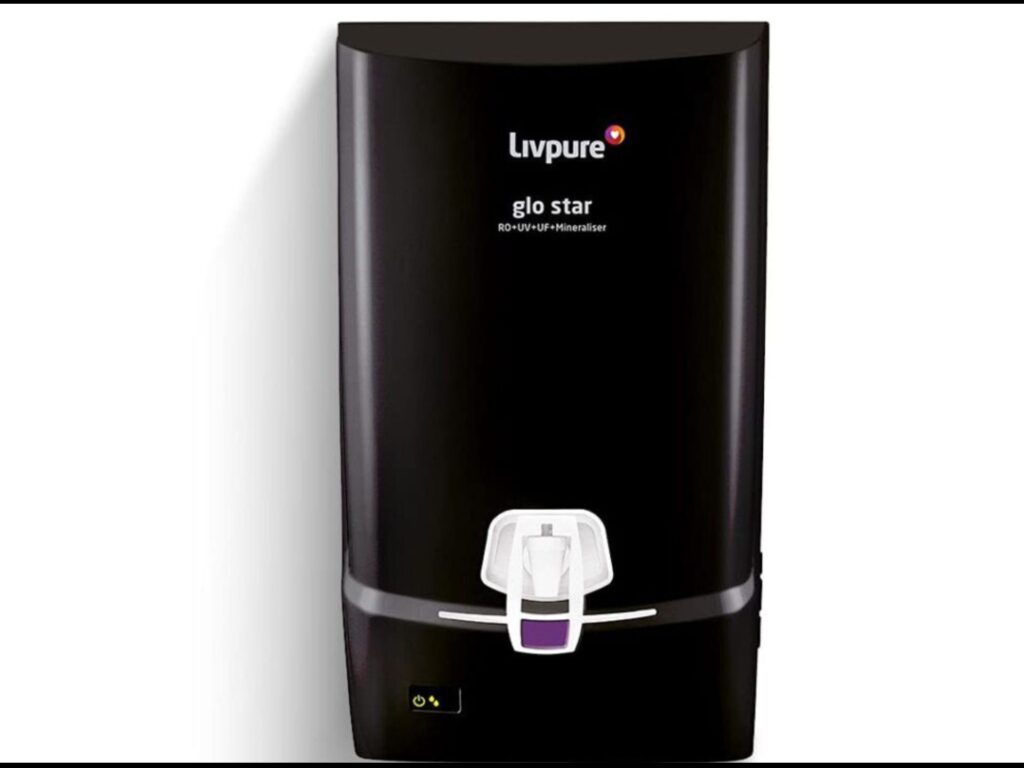 If you are in the market for a basic water purifier system, go for Livpure Glo Star. The water purifier sports a smart design and has all the goodness you would expect from a standard water purifier. However, with all its advanced features, this product is available at a surprisingly low rate from the Amazon marketplace. The 7-liter water capacity is sufficient to handle the water filtration needs of an average Indian household of four.
Features
The mineraliser feature ensures the water you drink is healthy with the right concentration of essential minerals.
The product has a 7-step water purification process (RO + UV + UF).
The water purifier has 1-year product warranty.
Pros
Modernist design
Wall-mounted design
Insect-proof tank
Deep UV sterilization
7-step purification
LED indicators
Low budget
Cons
Can't keep directly on countertops
The water level indicator is absent
After-sales service issues
10. HUL Pureit Advanced Plus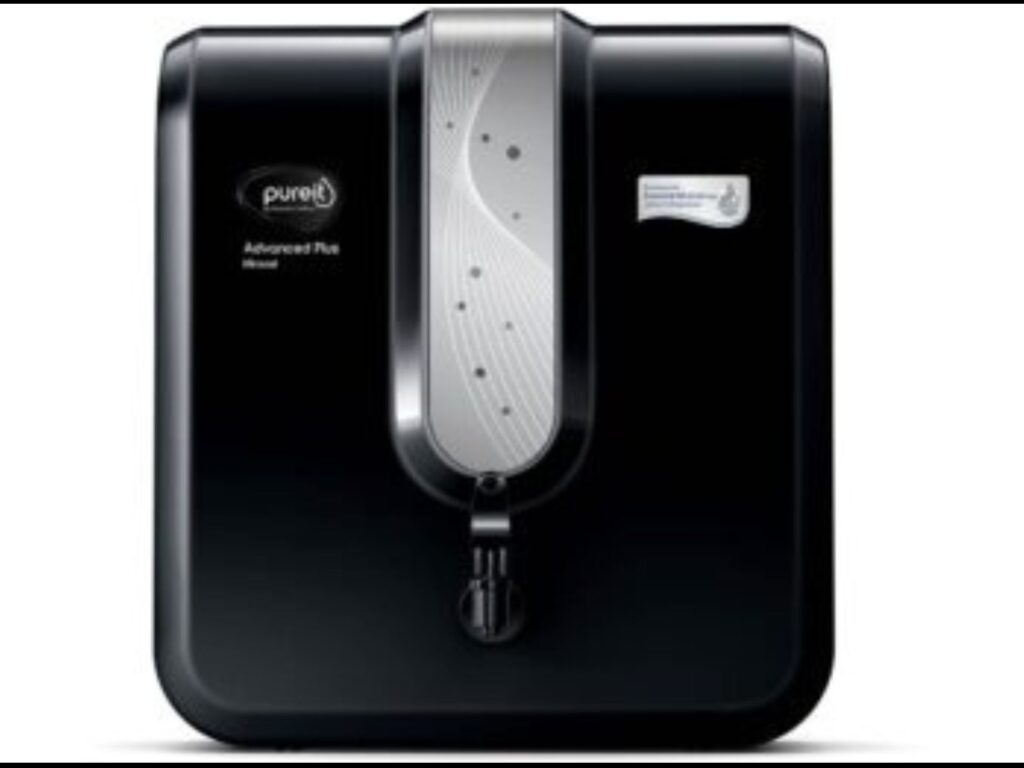 The HUL brand sure makes the best-looking water purifiers, and the Pureit Advanced Plus is no exception. If you have a small family, and a 5-liter water purifier is good for you, consider buying this product from Amazon.
Features
Generates 100% safe water free of all kinds of bacteria and viruses.
Made of 100% food-grade plastic.
The purifier also removes pesticides and heavy metals from water.
It retains the natural mineral level of drinking water.
Pros
Good for a small family
Smart design
1-year warranty
Cons
The limited capacity of 5 liters
External sedimentation filter
Conclusion
A good water purifier is not a luxury, but an essential requirement for the modern household. Deteriorating the water supply level leads to major health problems, and you should never take the risk! We understand your concerns and did our best to review the best water purifiers for the Indian market.
Here's to living a healthy and happy life!