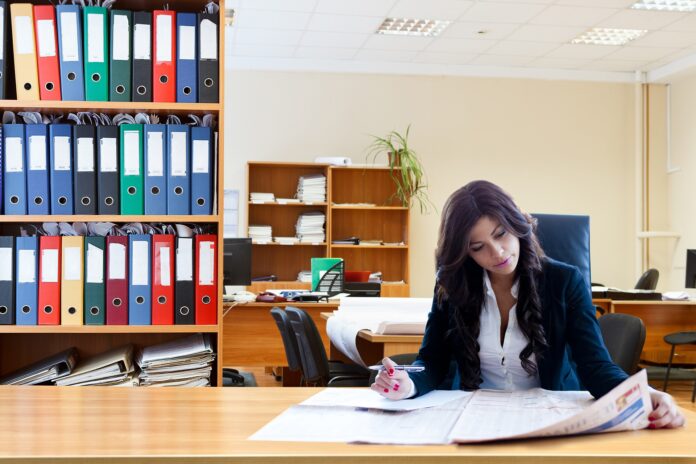 Do you know what traits successful businesswomen carry with them? Well, they believe in themselves, they take up challenges and risks, they are passionate about what they do and they care about their appearance!
If you are a businesswoman too, you would surely agree with me. Wouldn't you? Of course, you will!
You would be conscious of your looks and dressing as well. Keeping this in mind, we bring you a useful selection of designer tops for women that could be ideal office wear and could make you the front runner in the fashion dressing as well. With ajio online shopping offers today you can buy some stunning pieces at Ajio and amaze everyone. So keep reading to know the trendiest of the tops designs that can turn all eyes towards you at your office.
Button-up Blouses/ Tops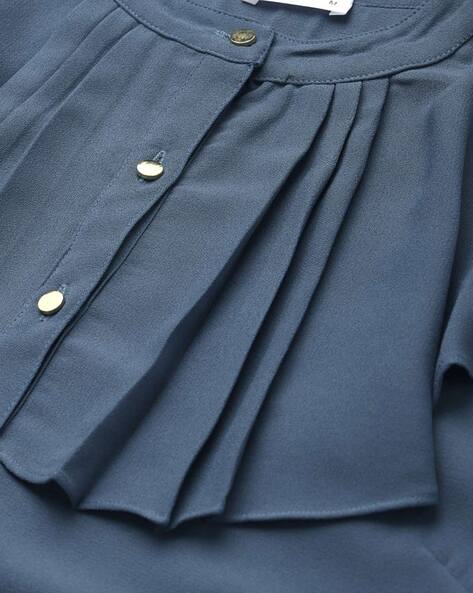 Classic in the world of fashion and a timeless wardrobe staple, button-up blouses make for the most adaptable stylish top designs that can be worn on almost any occasion. Button-up blouses come in myriad designs and dozens of materials with different styles of collars and sleeves of varying lengths. They can be long-sleeved, short-sleeved or even sleeveless, and you may choose any among them keeping in mind the occasion and the weather you want to wear them.
There are many ways you can spruce up your button-up tops. You can order button-up tops online with ajio offers today and wear them with a pair of trousers to give your attire the most elegant look.
Turtleneck/ High-neck Tops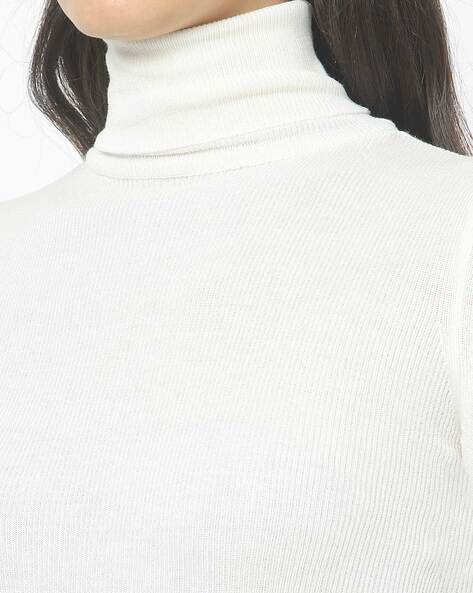 Turtle neck tops can be worn for casual as well as formal events and are considered as one of the best designer tops for women. They add a sophisticated look to the entire outfit and can be worn as a classic winter clothing item. Turtlenecks are mostly worn in winters so they come in fabrics that are wearable in the cold weather. There are many ways you can style up your outfit with this classy piece as its full upper-body coverage ensures warmth on most cold days as well. As the cold wave continues to intensify, shop some ajio tops for women and give your office dressing some respite from cold with turtleneck tops!
Lace Tops
Women have always been charmed by laces and you are sure to find these in every woman's closet in one or more forms. Laces give a very delicate and elegant touch to an outfit and that makes them an ideal choice for those looking for these features. Lace tops are in vogue mostly during the summer months as they are airy and breathable pieces of outfits and also look graceful. If you want to wear something that looks sophisticated and stylish for office wear, then you could prefer beautiful lace tops without much contemplation.They are the most stylish top designs that entice every eye and comfortable as summer wear too.
Peplum Tops
The inherently stylish and elegant looking peplum tops are found in nearly every stylish woman's closet. Peplum tops work well with most of the outfits that you wear for your office which makes them quite versatile too. Although these classy pieces of designer tops for women are great as summer wear, peplum tops can also be worn during winters and layered up with interesting combinations of top wear. Peplum tops give a very familiar and chic look to the outfit and you surely would not want to miss out on its Charisma! Would you? So, go and shop for some daily casual wear ajio tops under 300 and let your fashion styling take the lead!
Neck tie-up Tops/ Halter-Neck tie-up Tops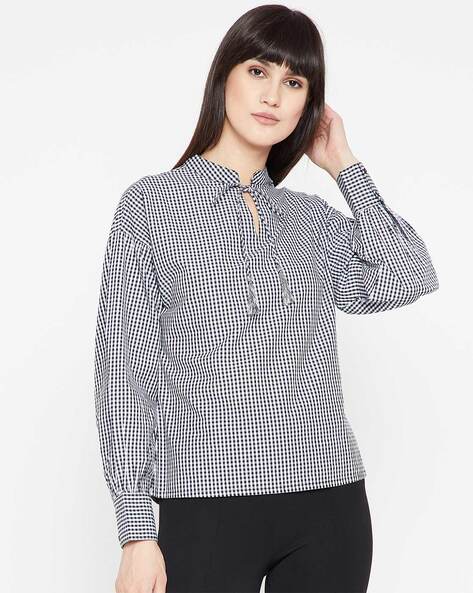 A beautiful neck tie-up blouse/ top should be a must-have statement piece if you stay updated with fashion trends. You could go for a simple neck tie-up top or a more feminine looking Halter neck tie-up top, the choice is completely yours! But whichever neck style you choose, a tie-up top looks equally elegant and graceful. Of course, we must not forget how versatile it could be when it comes to pairing up with other outfits Among all the stylish tops designs, a neck tie-up top could be perfect office wear for a businesswoman as it gets a casual yet extraordinarily appealing look to the outfit.
Check out ajio online shopping offers today to save on purchases and buy a halterneck top for your next business meeting.
Ruffle Tops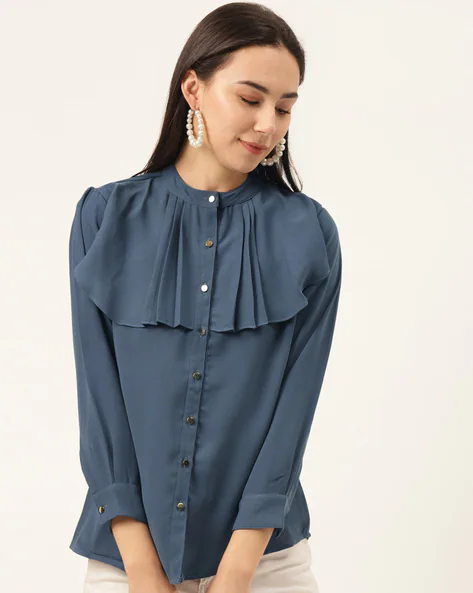 Ruffle tops are always in trend as they are super feminine looking and can be worn in a myriad of ways. These designer tops for women with frilly and flowy ruffles tops are comfortable as summer wear and give volume to the thinnest of fabrics in a very stylish way. Ruffle tops at the workplace make for the trendiest outfit and you can be the centre of attraction all the while you are at your office! These tops are admired by women fashionistas as ideal office wear since they give fashionable and formal vibes, all at the same time.
You can team them up with tight or jeans for casual Friday dressings, while scouring some ajio offers today on the beautiful ruffle tops that can fetch you loads of compliments!
Wrap Tops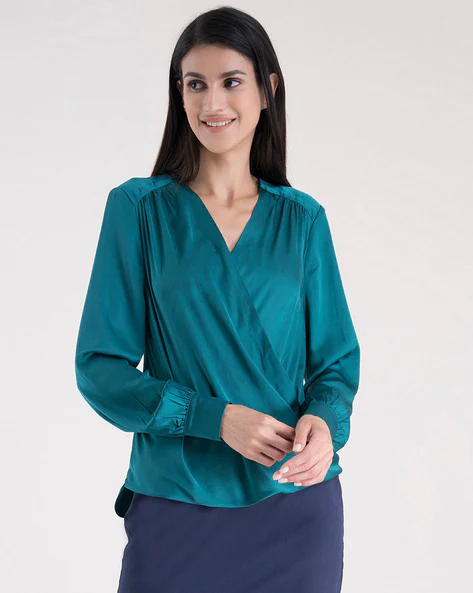 Wrap dresses have always been in fashion and you can find fashionistas flaunting wrap dresses as casual wear for decades. Then came the shorter version of these wrap dresses, the wrap tops, that grabbed the attention of fashion lovers. What is so enticing about these wrap tops? Well, how it creates the feminine silhouettes so that you can show off your curves in the most stylish way! Wrap tops are one of the most versatile and figure-flattering outfits that you can wear to the office, or an evening outing or a weekend get-together.
Conclusion
Choosing the right kind of tops/ blouses as everyday workwear could be daunting with so many stylish top designs options around. If you are a businesswoman looking for trending and elegant tops for office wear, then I hope this article would have been a help to you. Do look out ajio top for women online and get some fabulous offers and discounts to make your purchase a truly amazing experience!