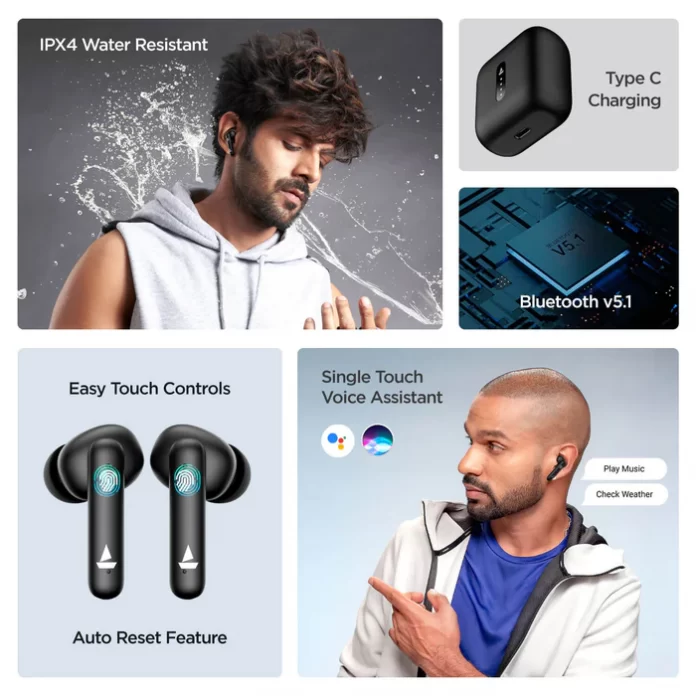 Music is the essential part of life and we use different kinds of devices to drive into the world of music. DJs and speakers are good for parties and public gatherings but when we talk about personal usage the TWS earbuds are the best ones. In this BoAt Airdopes 141 Review article, you will get to know different aspects of this true wireless stereo device.
If you are planning to buy boAt airdopes 141 TWS earphones, go through the detailed review of the airdopes 141. It will help you to decide whether you should buy it or not.
These are the budget friendly airdopes with decent features. The usage of the boAt airdoepes 141 is ideal for travelers because of its battery backup and size of the device.
BoAt Airdopes 141 Pricing
The boAt airdopes 141 are available for purchase on its official website as well as leading ecommerce websites. The price of these airdopes are 1499 only.
For discounts and offers you may look for some coupons websites. The best deals can be availed during festivals as the e-commerces giants offer massive discounts these days. Even the official website runs flash sale offers.
BoAt Airdopes 141: What's Unique?
42 hours of battery backup
Voice Assistant with one click
Beast mode for lower latency
Unboxing BoAt Airdopes 141
BoAt Airdopes 141 With Charging Case
Additional Earbuds
Charging Cable
User Manual
Warranty Card
BoAt Airdopes 141 Specifications
1. General
| | |
| --- | --- |
| Brand | Boat |
| Model | Airdopes 141 |
| Headphone Type | In-Ear |
| Colors | Black, White Purity, Cyan Cider |
| Warranty | 1 Year |
2. Performance
| | |
| --- | --- |
| Frequency response | 20Hz – 20KHz |
| Voice Assistant | Yes (One Click) |
3. Connectivity
| | |
| --- | --- |
| Bluetooth | Yes |
| Bluetooth Version | V 5.0 |
| Transmission Range | 10m |
4. Battery
| | |
| --- | --- |
| Standby Time | 100 hours |
| Charging Time | 1 hour earbuds, 2 hours case |
| Playback Time | Up to 6 hours per charge additional 36 hours with case |
| Battery Size (Case) | 600 mAh |
| Battery Size (Earbuds) | 30 mAh each |
5. Dimensions
| | |
| --- | --- |
| Weight | 60 gram |
| Dimensions | 5 X 5 X 2 Cm |
Pros
Lightweight and Fashionable
Seamless Music Experience without Distortion
Two 8mm audio drivers
It Supports Fast Charging With ASAP Technology
Touch Controls Works Nice
IPX Sweat and Water Resistance
Boat Signature Sound
75 Minutes of Playback with just 5 minutes of Charging
Greater Connectivity with Insta fast n' Pair Technology
Affordable Pricing
Cons
Average Call Quality
The build quality of charging case is average
Not Ideal for Gaming
BoAt Airdopes 141 Build Quality
The product is manufactured with polycarbonate material and the earbuds are IPX4 sweat/ water resistant. The earbuds have soft silicone ear tips that go inside the ear comfortably. The airdopes are strong enough to resist the mild pressure but these are prone to scratches.
The carry-cum charging case is compact in size and very comfortable for transportation. It has an average build quality. There are very high chances of dropping the case mistakenly so it will be good to use a carry cover in order to protect the device.
The opening and closing lid of the case is smooth and there is proper space to put the left and right earbuds in the charging case.
BoAt Airdopes 141 Design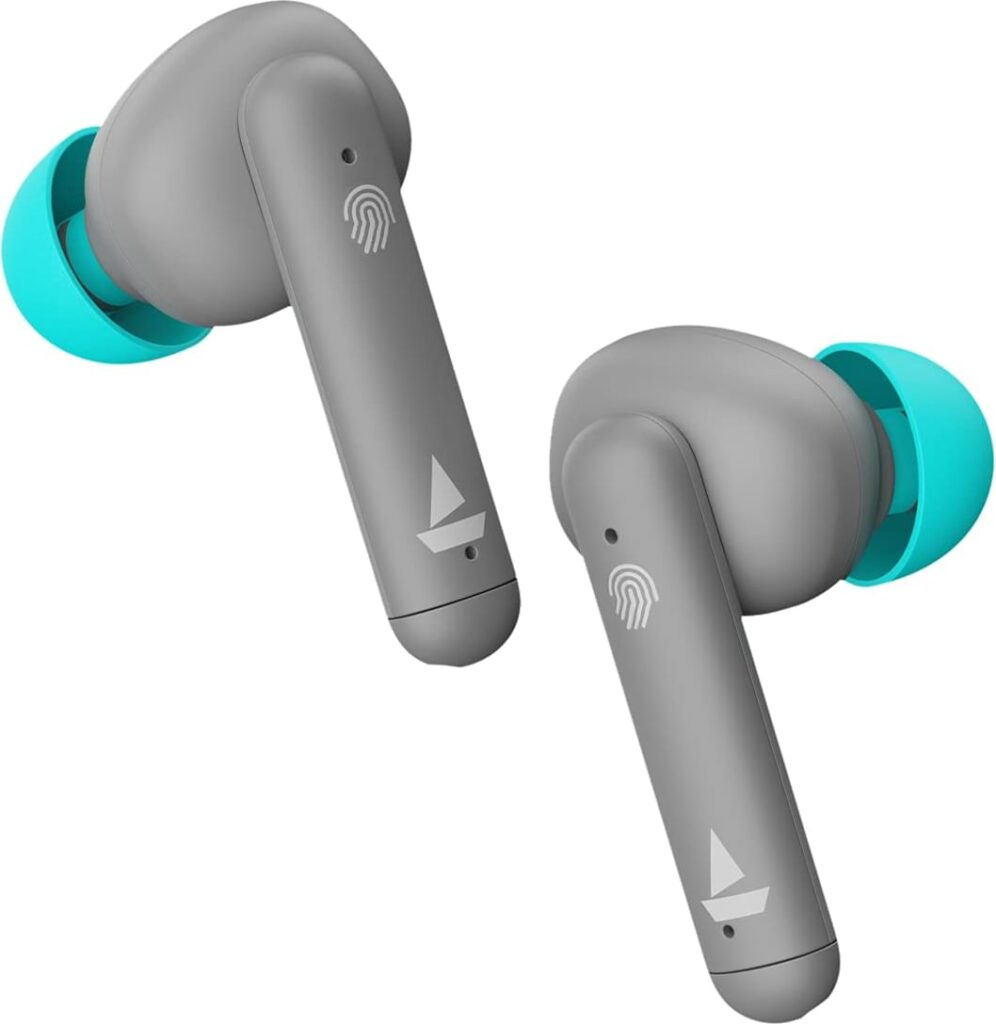 The Airdopes 141 offers a fresh look and are available in black, white purity and cycn rider color options. The design of the airdoepes is simple but attractive. They are very comfortable in your ears and never drops from your ears.
These TWS earphones offer excellent grip and in ear feel. You can wear these earbuds for long hours without any pain. You can use these airdopes during workouts like running, jogging, etc. We have tested these TWS thoroughly for the purpose of a genuine boAt airdopes 141 review.
BoAt Airdopes 141 Audio Quality
The boAt airdopes 141 contains two 8mm dynamic audio drivers which produces decent sound with good bass. It also offers 2 microphones (one in each earbud) for better calling experience. The best audio can be enjoyed at 60 to 70% volume of the device. The vocals and instruments are crystal clear and loud.
The multi function buttons allow you to pause/ play music, answer/ reject calls etc. It offers a touch control system for a fast and better hands free experience. Considering the price of the airdopes the audio quality is great.
BoAt Airdopes 141 Battery
The company claims 42 hours of non-stop playback time on a single charge but what you will get is 36 to 38 hours which is also good enough. The charging case has a big 600 mAh battery while each earbud has a 30 mAh battery.
The device supports fast charging with the ASAP fast charger and it comes with a Type C charging interface. It takes only 2 hours to charge the carry cum charging case fully and 1 hour to charge the earbuds.
With just 5 minutes of charging you will have 75 minutes of playtime. On a single stretch, the earbuds are capable of playing sound for up to 6 hours. However, you can expect 100 hours of backup on standby mode.
BoAt Airdopes 141 Connectivity
The TWS earbuds have bluetooth V5.0 connectivity within a range of 10 meters. The insta wake n' pair feature of the device enables it to connect the phone as it leaves the case.
The airdopes connects automatically after being paired once with your phone or laptop. To test the claims of the company, we tried to make a call by putting the smartphone 10 meter away. Interestingly, we have great conversations on the phone without a single word drop.
BoAt Airdopes 141 Microphone
As we have said above, the airdopes 141 has two microphones thus it makes the calling experience better than some other prominent devices in the same price range. It cancels out up to 60% background noise thus you can use these airdopes outdoor as well as indoor.
Although it does not completely cancel the background noise, you have to put out the earbuds in order to talk to someone.
BoAt Airdopes 141 Ratings
Why Should You Buy BoAt Airdopes 141
The boAt airdopes 141 TWS earbuds have prominent audio quality with decent bass and treble. It offers longer playback time as compared to other devices in the same price range. It has a good microphone, the overall calling experience is very good. On the other hand, the device lacks in terms of built quality. The airdopes 141 have all essential features which you have come across in this BoAt airdopes 141 review article at lower prices.
Final Verdict
So, We have discussed the pricing of BoAt Airdopes 141 in India, Specifications, Pros & Cons Build Quality, Battery backup, Connectivity, Microphone etc. The article is based on intense research and experts opinions, however, we have used and tested the device so that you can have a real and honest experience based review.
I hope you have liked the detailed BoAt Airdopes 141 Review and got all your questions answered. You can share this valuable information about boAt airdopes 141 with your family members or friends. For any query or suggestion please write in the comment box.
---
BoAt Airdopes 141 Review: FAQs
What was the launch date of BoAt Airdopes 141?
The BoAt Airdopes 141 TWS Earbuds were launched on 26th July 2021 in India. The price of these airdopes are 1499 rupees.
Is BoAt Airdopes 141 good for calling?
The boAt airdopes 141 has a built-in microphone that is used for calling purposes as mic. These airdopes are of average quality if we talk about calling experience. The BoAt Airdopes 141 is equipped with ENx technology that makes your calling experience superior.
Does BoAt Airdopes 141 has noise cancellation?
The BoAt Airdopes 141 has noise cancellation features but it cancels out the background noise upto a certain limit.
Is BoAt Airdopes 141 waterproof?
Yes, boAt airdopes 141 are IPX sweat and water resistant, it may secure your device from dust also.
Does BoAt Airdoes 141 support fast charging?
Yes, The product comes with an ASAP fast charger. The company claims 75 minutes of playback time with just 5 minutes of charging.
Can I charge my earphones while the case is being charged?
Yes, you can charge carry cum charging case and the True Wireless Stereo Bluetooth earbuds at the same time simultaneously.
Is there a warranty for the product? How do I claim the warranty?
Yes, all of our true wireless earbuds come with a 1 year warranty. To register your device, visit https://support.boat-lifestyle.com/.